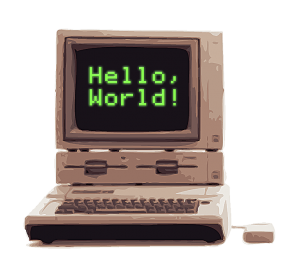 My name is Richard H. Gross, and I am a soft­ware devel­op­er and a .Net pro­gram­mer. I am also a per­ma­nent dea­con in the Dio­cese of Kansas City-St. Joseph.
I have always had a pas­sion for com­put­ers and cod­ing and a love of tech­nol­o­gy. My pro­gram­ming expe­ri­ence began in 1983 on an Apple IIe. I was in junior high school. After earn­ing my bachelor's degree, I spent time oper­at­ing my own busi­ness cre­at­ing cus­tom data­base appli­ca­tions for the pub­lish­ing industry.
For more than 20 years, I worked as the edi­tor and media direc­tor for a major non­prof­it and was in charge of super­vis­ing, orga­niz­ing, and main­tain­ing five asso­ci­a­tion web­sites, as well as the social media pres­ence for the orga­ni­za­tion. I was also respon­si­ble for all of the print media efforts of the orga­ni­za­tion. I worked suc­cess­ful­ly with a very broad range of peo­ple, from accoun­tants to artists and from busi­ness own­ers to poten­tial clients of mem­ber busi­ness­es. I am very proud that I was able to orga­nize and present huge amounts of data to the tar­get­ed end users in such a way that it was under­stand­able and acces­si­ble to them.
After leav­ing the Stained Glass Asso­ci­a­tion, I decid­ed to pur­sue soft­ware devel­op­ment full time. I enrolled in Centriq's .Net Appli­ca­tion Devel­op­er pro­gram and gained many new skills that took me into the world of C# development.
After I grad­u­at­ed from Cen­triq, I went to work at Grantham Uni­ver­si­ty where I put my skills and expe­ri­ence to work cod­ing in an envi­ron­ment that offered the oppor­tu­ni­ty to encounter many chal­lenges and dis­cov­ered solu­tions to meet and exceed the needs and expec­ta­tions of the busi­ness user.
After more than five years and ris­ing to the posi­tion of Senior Soft­ware Devel­op­er, I left that posi­tion in the sum­mer of 2021 and am cur­rent­ly seek­ing new oppor­tu­ni­ties to devel­op soft­ware that will con­tin­ue to meet and exceed the expec­ta­tions of the end user.